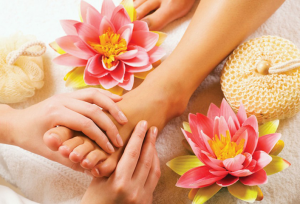 Classic Pedicure - $35
Includes mint soak, nails and cuticle maintenance, pumice, sugar scrub exfoliation, leg massage, hot towel and polish.
Heel Therapy Pedicure - $40
Ideal for those with dry heels. Classic pedicure with addition of callus treatment.
Luxury Pedicure - $45
Unwind the stress of your day with our uplifting treatment that nourishes tired, dry feet, promotes healthy skin and prevents dehydration, giving your feet a glowing complexion. The package includes: Callus eliminator application,Cooling gel,Organic sugar scrub exfoliation. Butter cream massage, hot towel wrap, polish of your choice
Deluxe Pedicure - $55
This luxurious pedicure begins with an essential sea salt soak, using all organic products. It consists of cuticle maintenance oil and buff, callus treatment, lower leg and foot exfoliation, sugar scrub, clay mask, massage cream, finishing off with paraffin, hot towel and polish.
Royal Pedicure - $70
Escape on a journey with our rejuvenating organic pedicure. Revive and revitalize your feet with a unique heat therapy foot bath soak. Nail and cuticle maintenance care, callus eliminator application, sugar scrub, detoxifying clay mask then a wrapped warm towel, paraffin treatment, therapeutic hot stone massage, and hot towel with your choice of polish.
*Choice of organic scents: Strawberry Cranberry, Guava Passion, Pomegranate Lime.
*Gel add on will be an additional - $20
*French gel will be an additional - $25
*Gel polish change on toes - $30
*Polish change on toes - $15